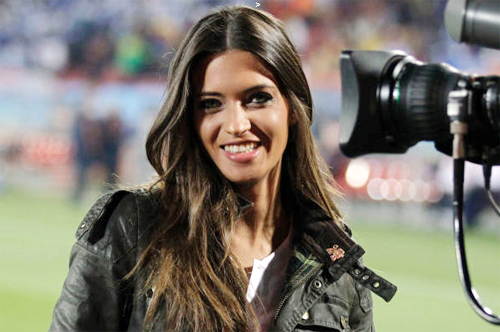 We observed with interest the article in the Sunday Times Style supplement of 24 June on the emergence of the SWAG (short for "Superwag"). The feature proposed the new breed of WAGS ("Wives And Girlfriends of Soccer players) were different – independent, successful, stylist, and single-minded. Those in the former catgeory may disagree with the distinction but we were struck with the beauty and memorability of the SWAG name (if fact, we wondered if it was necessary to have a beautful name to become one!) i.e.
Sara Carbonero – see picture above – (respected spanish sports journalist, girlfriend of Iker Castillas)
Tatiana Golovin (pro tennis player, girlfriend of Samir Nasri)
Sarah Brandner (German model, dates Bastian Schweinsteiger)
Christine Bleakley (tv persenter, girlfriend of Frank Lampard)
Shikira (popstar, girlfriend of Gerard Pique).
Indeed, we felt if having a beautiful name was a ticket for becoming part of this elite set, should the set not create a more beautiful name for themselves (Cougars, Aristocats etc.)?
For instance, how about the "PEMAPS" (Popstar Entrepreneur Model Athlete Partners of Soccer/Sports stars)??
What do you think – what name can you come up with?