8 things about Philip Tracey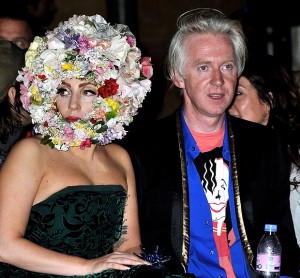 It's hard to ignore the shooting star of the Irish design world. We are thrilled and inspired everyday but the endless creativity and brilliance of our leading lights.
Arguably, the creme of the crop is our milliner extraordinare.
And here are 8 things you may or may not know about him-
1. He was born in Ahascragh, Ballinsloe, Co. Galway and has seven brothers and one sister.
2. He studied at the National College of Design in Dublin before winning a scholarship to attend the Royal College of Art in London in 1988.
3. In 1991, he stablished his own company and in 1994, opened his first shop at 69 Elizabeth Street in London.
4. He has designed hats for haute couture houses such as givenchy, alexander mc queen, valentino, helmut lang, thierry mugler, anna molinari and versace.
5. His personal clients include Daphe Guinness, Isabelle Blow, Katy Perry, Sarah Jessica-Parker and Madonna.
6. He designed the G-hotel in Galway. On 31 July 2012, he was asked to design a collection of diamond engagemenet rings for Voltaire Diamonds.
7. 36 of his hats were worn at the royal wedding of Will and Kate in 2011. Princess Beatrice famously wore his Fascinator hat to the wedding.
8. In September 2012, he made his return to London fashion week after a twelve-year gap.
Now then, who's that girl in the floral sculpture?